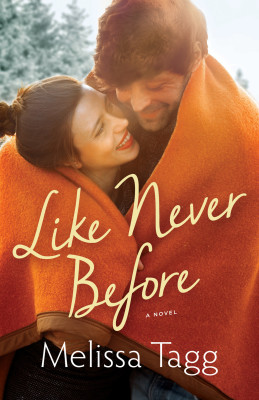 Named to Publishers Weekly's spring 2016 "Religion and Spirituality" Top 10 list!
"Instant chemistry...smart, witty voice. Written in Tagg's engaging voice, this latest offering has plenty of dimension and heart." —RT Book Reviews
When Logan Walker inherits his hometown newspaper, his goal to sell it off is stalled by charming editor Amelia Bentley and the thrill of chasing a story.
Overview
Maple Valley became Amelia Bentley's haven after her heart and her dreams of a family were shattered. But her new life as a newspaper editor is shaken when the small-town paper is in danger of closing. Her one hope: A lead on an intriguing story that just might impress the new publisher…if only she knew who he was.
After his biggest campaign success yet, widowed speechwriter Logan Walker now has the chance of a lifetime—a spot on a presidential campaign. But his plans are interrupted when he finds out he's inherited his hometown newspaper. He travels home intent on selling the paper and spending some much-needed time with his young daughter before making the leap into national politics.
But instead of a quick sale and peaceful break from his hectic career, Logan finds himself helping Amelia chase her story. She's scrappy, but wounded. He's dependable, but lost. They may butt heads more than expected, but a series of leads on Maple Valley's quirky unsolved mystery is just the start of the sparks that fly in the office and in their hearts.
Endorsements
With profound truths on one page and laugh-out-loud hilarity on the next, Like Never Before quickly became one of those novels I didn't want to end. Melissa Tagg has penned a delightful story that took hold of my heart and didn't let go. Superbly well done!"
–Katie Ganshert, best-selling, award-winning author
"In Like Never Before, readers are invited to revisit the much-loved Walker clan in a story that delivers on the promise that even if lost once, love can be found again. In true Melissa Tagg style, the dialogue is smart and the romance is real and raw in all the right places. This series is witty storytelling at its best."   
—Kristy Cambron, author of the Hidden Masterpiece series and The Ringmaster's Wife 
"Like Never Before is a gem of a story. I never knew Iowa could be so charming until I met the Walker family from Maple Valley. Logan and Amelia's story is pure delight–funny, sweet, romantic, poignant–and it even has a touch of historical mystery! The perfect weekend read–Melissa Tagg just keeps getting better and better!"
–Susan May Warren, RITA® and Christy award-winning, bestselling author of the Christiansen Family series
"In Like Never Before, Melissa Tagg once again delivers a wonderful romance–and a fun little mystery!–with her signature swoon-worthy characters and laugh out loud moments that will make every reader fall in love with both the story and the author. As always, a wonderful read by a very talented writer!"
–Sarah Price, bestselling author
"Like Never Before is like a warm embrace from the Walkers with the added sweetness of a heroine who feels like your best friend. Amelia just wants a home. Logan just wants to keep moving. Both are burdened by deep pain from the past. In Like Never Before, you will be reminded that love is worth the risk no matter what has hurt you in the past. And by opening your heart, you may just find a home. This is another keeper from an author who somehow makes each novel better than the last."
–Cara Putman, award-winning author of Shadowed by Grace and Where Treetops Glisten
"In Like Never Before, author Melissa Tagg once again welcomes readers to the fictitious town of Maple Valley, even as she crafts characters you come to care about like real-life friends. The story, woven through with Tagg's trademark humor, highlights an abiding love of family and the importance of anchoring yourself to God when life is hard. One of my favorite books by this author!"
–Beth K. Vogt, 2015 RITA® Finalist, author of Crazy Little Thing Called Love
"Warm, witty, and insightful, no one crafts a romance like Melissa Tagg. After just a few pages, I found myself sighing with happiness–prepare to be charmed!"
–Hillary Manton Lodge, author of Reservations for Two
"Like Never Before is a heartfelt story that is staying on my keeper shelf! As a woman who has gone through a divorce, I found the heroine's character relatable, realistic, and compelling. This is a must-read for anyone who enjoys romance, second chances, and is drawn to hope."
–Betsy St. Amant, author of All's Fair in Love and Cupcakes, and Love Arrives in Pieces
"Reading a Melissa Tagg novel is like sharing coffee with a close friend in cozy diner where the conversation and laughter flow freely. Like Never Before offers readers a charming setting with passionate characters, snappy dialogue, heartfelt moments, and threads of faith woven throughout the story to pull everything together. Another book on my keeper shelf."
–Lisa Jordan, author of Lakeside Redemption
Disclosure of Material Connection: Some of the links in the page above are "affiliate links." This means if you click on the link and purchase the item, I will receive an affiliate commission. I am disclosing this in accordance with the Federal Trade Commission's
16 CFR, Part 255
: "Guides Concerning the Use of Endorsements and Testimonials in Advertising."
Other Books in "Walker Family":