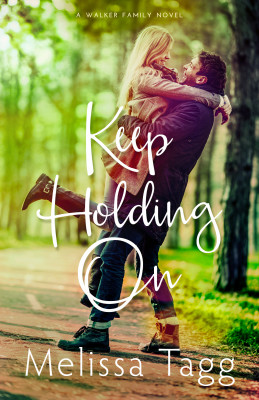 "Melissa Tagg writes with humor, depth and sincerity. The story of Beckett and Kit will keep you 'holding on' until the very last swoon-worthy page. Tagg is one of romance's finest authors." —Rachel Hauck, New York Times & USA Today Bestselling Author
Overview
Beckett Walker hasn't stepped foot in Maple Valley in years. There's no getting past the painful memories, and there's every chance he'll be arrested as soon as he shows his face. Which is exactly what happens when he finally returns. Suddenly his dream of adventure as a military lawyer comes skidding to a halt.
Horticulturist Kit Danby has spent too much time missing home and her childhood best friend—Beckett Walker. Now she might have a shot at reclaiming both. After years of living abroad, she returns to run her family's apple orchard. She has one season to turn a profit and impress the father she barely knows. But she can't do it alone.
It should be simple: Beckett needs community service hours. Kit needs a helping hand. But there's more at stake than either of them planned. With a tangled past and futures that look nothing alike, they'll have to find a way to weather the storms of the present . . . or risk losing everything.
Disclosure of Material Connection: Some of the links in the page above are "affiliate links." This means if you click on the link and purchase the item, I will receive an affiliate commission. I am disclosing this in accordance with the Federal Trade Commission's
16 CFR, Part 255
: "Guides Concerning the Use of Endorsements and Testimonials in Advertising."
Other Books in "Walker Family":