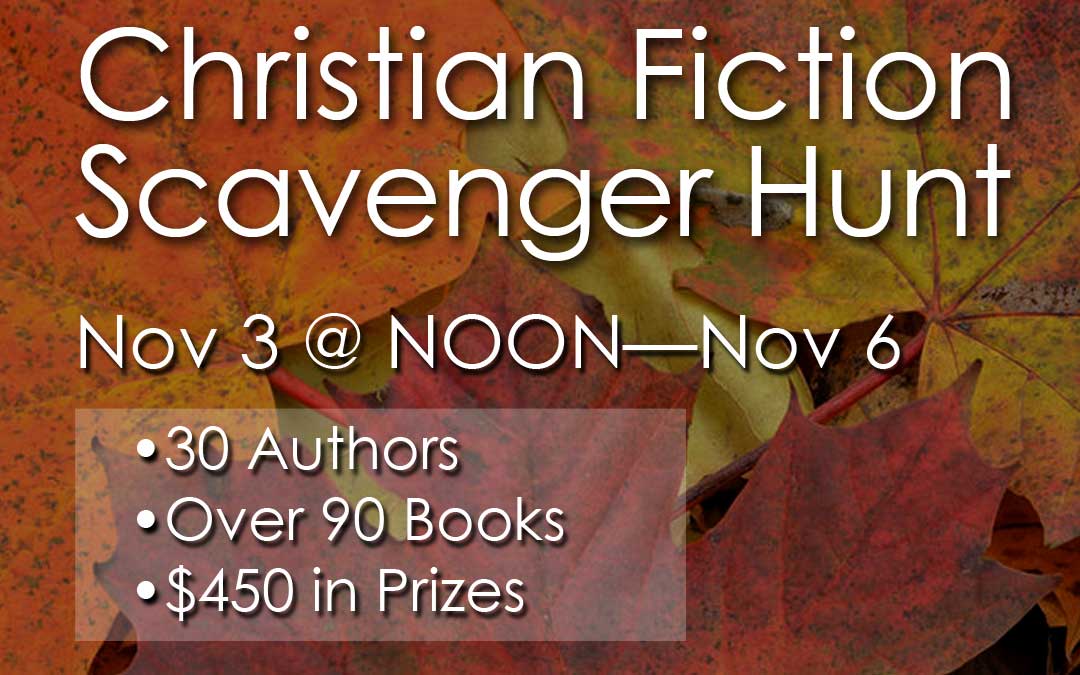 Welcome to the Christian Fiction Scavenger Hunt! If you've just discovered the hunt, be sure to start at Stop #1, and collect the clues through all 31 stops, in order, so you can enter to win one of our top 3 grand prizes!
The hunt BEGINS with Stop #1 at Lisa Bergren's site
Hunt through our loop using Chrome or Firefox as your browser (not Explorer).
There is NO RUSH to complete the hunt—you have all weekend (until Sunday, 11/6)! So take your time, reading the unique posts along the way; our hope is that you discover new authors/new books.
Submit your entry for the grand prizes by collecting the clue on each author's scavenger hunt post and submitting your answer in the Rafflecopter form at Stop #31. Many authors are offering additional prizes along the way! Including me!

Make sure to read to the bottom of this post for an extra giveaway…a chance to win my latest book plus a package of autumn coffee. 
It's my honor to introduce you to Janet Chester Bly. She's a city girl with a country heart…and a prolific writer, too! She's writes contemporary, historical and cozy mystery novels. Find out more about Janet and Bly books at www.BlyBooks.com.
Janet's latest book is Down Squash Blossom Road.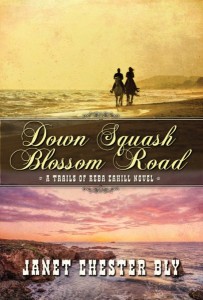 What Secret Lies Down Squash Blossom Road?
Cowgirl Reba Cahill's schedule is full. Save the family ranch. Free her mom from a mental institute. Solve a murder and kidnapping. Evade a stalker. Can she also squeeze in romance?
Reba Cahill focused on the duties of the ranch, along with her widowed grandmother. But a crippled Champ Runcie returns to Road's End in a wheelchair and seeks revenge for the accident that put him there. He blames Reba's horse. Meanwhile, a letter from her estranged mom forces her and Grandma Pearl back on the road: I can leave now. Come get me. Love, Mom
When they arrive in Reno, her mother issues a demand and refuses to return to Idaho. They head west instead. In California, Reba's friend Ginny's marriage is on the rocks. The family business is threatened. And squabbles turn deadly.
Reba digs deep to find the courage to forge a relationship with her mom and escape a crazed man's obsession. She also hopes for a future with a horse trainer who offers her a new horse to replace the one she lost in the accident. But why does he have a photo of a pretty woman on his wall?
Since Janet's current series takes place during 1991, she's written a fun post full of 1991 headlines…
12 Months of 1991 Headlines
The Trails of Reba Cahill western mystery series revolves around May-September 1991. This summer forms the foundation for the rest of 25-year-old cowgirl Reba Cahill's life. Reba's personal adventures occur within the backdrop of certain national and world social and political events. Here are some sample highlights ….
January
President George H. W. Bush oversees launch of Operation Desert Storm. Gulf War begins as U.S. determines to liberate Kuwait from Iraq invasion. Iraq responds by sending scud missiles into Israel.
A new all-star rendition of John Lennon's song "Give Peace A Chance" is released in response to the imminent war.
February
Gulf War ends after 100 hours of ground fighting. Iraq army sets oil fields on fire as they leave Kuwait.
March
Eight members of country singer Reba McEntire's band die in fiery plane crash.
Four Los Angeles police officers are indicted for the videotaped beating of motorist Rodney King during an arrest.
April
U.N. Security Council calls for destruction of Iraqi chemical and biological weapons stockpile and ballistic missiles. Iraq agrees to withdraw its support of international terrorism.
May
Queen Elizabeth II gives speech in U.S. Congress, first address to U.S. Congress by a British monarch.
Thelma and Louise movie released.
June
Mt Pinatubo volcano erupts in Philippines. World weather patterns effected with the spread of mega tons of particulates into the stratosphere, the second largest terrestrial eruption of the 20th century.
July
Bank of Credit and Commerce indicted in New York for largest bank fraud in history.
Movie Terminator 2: Judgement Day released.
August
Internet is made available to unrestricted commercial use and number of computers on the net reaches 1 million. Young British scientiest Tim Berners-Lee releases files describing his idea for the "World Wide Web."
Super Nintendo console is released.
September
Release of American Grunge band Nirvana's "Nevermind" signified the start of the Grunge music era.
October
Governor of Arkansas, William "Bill" Jefferson Clinton, announces he'll seek the 1992 Democratic nomination for U.S. President.
November
After pressure for publication mounted, general access made available to photographs of the Dead Sea Scrolls, forty-four years after discovery of the first Scroll.
Singer Michael Jackson releases his world-wide hit album "Dangerous."
December
Mikhail Gorbachev resigns as president of the Soviet Union and the Soviet Union officially ceases to exist.
Mother-daughter country singers The Judds give final concert performance as a duo.
Janet Chester Bly is the widow of Christy Award winning western author Stephen Bly. They authored and co-authored–his, hers, and theirs–more than 120 fiction and nonfiction books for adults and kids. The Trails of Reba Cahill series are her first solo adult novels.
Here's the Stop #7 Skinny: 
You can order Janet's book on Amazon, Barnes & Noble, Janet's website or at your local bookstore! 
Clue to Write Down: whether
Link to Stop #8, the Next Stop on the Loop: Janet Bly's own site!
But wait! Before you go, I'm also offering one lucky winner a copy of my new book, Keep Holding On, plus a package of some of the most scrumptious autumn coffee ever. Just fill out the form below!
a Rafflecopter giveaway