Hey!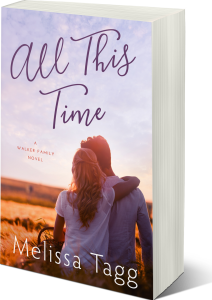 Guess what . . . my next book, All This Time, releases two months from today! Yep, it's releasing on September 28. Which also happens to be my birthday.
So basically I will have two reasons to eat ice cream cake that day. Did I purposely plan it that way? Maaaaybe.
But here's the thing, if you've paid any attention at all to mundane things like my Facebook or Twitter header or the random post here and there, you've probably heard me say that All This Time would release at the end of August. And now I'm saying end of September. What gives?
To be completely honest, edits on this book have simply taken me longer than planned. Partially because earlier this month I basically decided to tear the story apart…FOR THE THIRD TIME. (Which sounds like a bad thing, but it's good. It's inspiration in action. I've learned to accept it as part of my process.

)
But also because (transparency moment) I have realized more and more in the past couple years that finishing books isn't nearly as important to me as hanging out with people I love. It just isn't. I adore my fictional characters and so enjoy spending time in fictional worlds. But real people, the real world…they're always going to win.
So, I truly apologize for needing to push my release date back a month. But I can't bring myself to regret my non-writing summer activities: traveling down to Wichita to see my nephew . . . trekking up to my hometown to watch my nieces in a parade . . . having a girls night with my mom and sister . . . helping my Dad paint my parents' house . . . sitting around a big table playing games with family . . . catching up with friends.

BUT to make up for the fact that I'm being so slow getting this book out into the world, we've got fun stuff coming up including:
Pre-order links are coming soon. As in, next week. As in, whoa, this is getting real!
Next week you'll also be able to sample the first three chapters of All This Time. YAY for sneak peeks!
And today we've got a pre-release giveaway starting! It runs through Sunday, August 6 and the prizes are pretty sweet, if I do say so myself.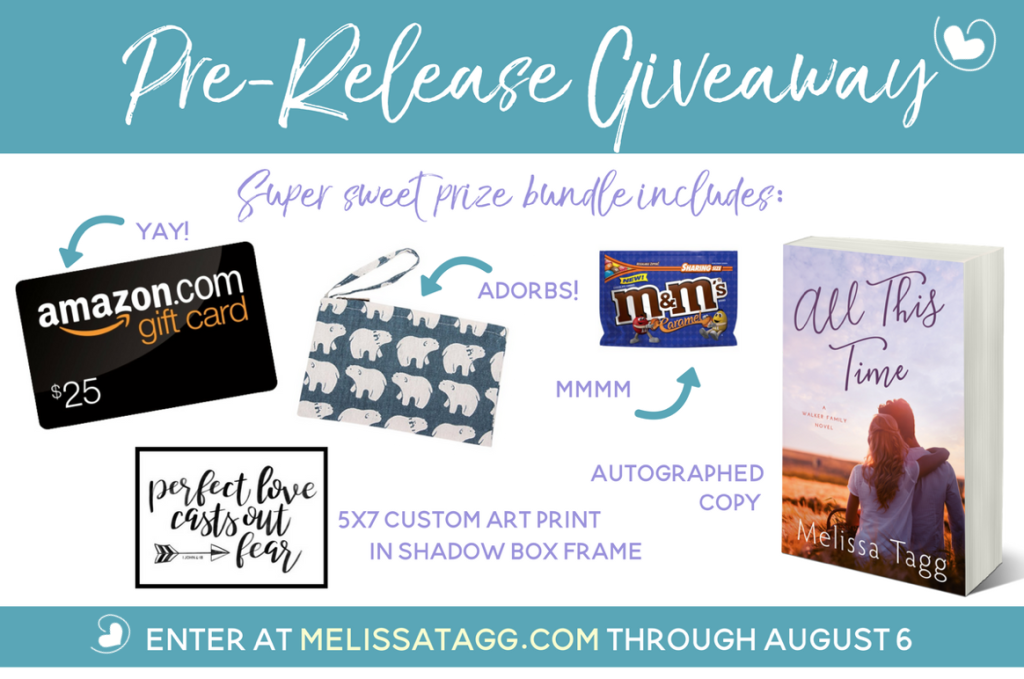 Prizes include:
$25 Amazon.com gift card
A 5 x7 custom art print with 1 John 4:18 on it, a verse which has ended up being a big piece of All This Time. The print was designed by my lovely and talented sister Nicole Schwieger. You can check out more of her work at her Duck & Doll Designs Etsy shop.
A ridiculously adorable bear print bag (because Bear McKinley!) Not gonna lie. When I saw this cute little bag (perfect for makeup or jewelry storage), I bought two . . . one for the giveaway and one for yours truly.
A large-size bag of caramel M&Ms because I'm kind of obsessed with them right now.
An autographed copy of All This Time (to be mailed once it's printed). Or if you happen to win and you prefer an ebook, that works too.
Entry is easy! Just fill out the form below and be sure to check out the bonus entry options…
Thanks for being patient with me, guys. I'm beyond excited to share Raegan Walker and Bear McKinley's story with you in September. (Although I should probably confess that I'm already preparing to cry my eyes out once this book is out in the world…I'm not ready to say goodbye to the Walkers!)

p.s. I'm pretty excited for ALL THIS TIME to release and I hope you are too…but what OTHER upcoming books are you excited about?!