You guys…I kinda technically have two books releasing today. And I'm kinda totally delighted about the whole thing!
'Cause, really, this whole Enchanted series just started off as a whim back in 2015. A complete and total whim inspired by nothing more than my silly love for the cover model on one of my books. (It's his eyes, man. Specifically, the crinkles at the corners. I wrote said crinkles into the book before I ever saw the cover and then I saw the cover and died of happiness.)
Anyhow, that whim eventually became a full-fledged story which eventually became a full-fledged series and today, the final novella in the series—One Enchanted Noël—releases. Plus, all three Enchanted stories are now available for the first time as a collection…in both paperback and ebook.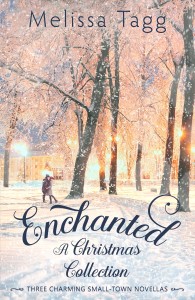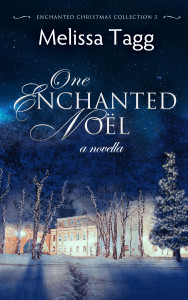 One Enchanted Noël is available for just $1.99 for a few more days. Price goes up soon. The full Enchanted collection includes One Enchanted Christmas, One Enchanted Eve, and One Enchanted Noël and is available in both paperback and ebook.
That's twice the book release fun!
I'm really overjoyed about the whole thing…and I'm grateful, too. This last Enchanted novella, as sooooo often happens when I'm writing, massively struck a chord with me. Leigh Renwycke, one of the main characters, is dealing with an inner restlessness (something I hugely resonate with) that scares her…in the past, whenever she's been restless, she's ended up looking for thrills in the wrong places. She's convinced she needs to learn to be content with the life she has.
But as I wrote Leigh onto the page, I couldn't help wondering if sometimes she, if we get the idea of "contentedness" wrong. I don't think being content means we don't want or wish for something more or simply different. I don't think it means settling. In fact, I think we can be content and grateful even while dreaming or desiring or pursuing something new.
And sometimes, those whispers of restlessness might actually be the nudge God is using to get us to tiptoe closer to that "something new."
These were the thoughts swirling in my brain as Leigh and Seb came to life…and they're swirling still. And this is what I loooove so much about writing stories! While fictional people burrow their way into my heart, their journey always somehow becomes my own.
And it's what I hope happens for you, readers to whom I'm so grateful, as you crack open the pages of this final Enchanted novella.
Enough of my rambling! It's release day, so of course, we need to do a giveaway. I'm giving away a copy of the full Enchanted collection (paperback or ebook, winner's choice), a $25 VISA gift card and a super pretty Noel ornament hand-lettered by my talented sister, Nicole Schwieger of DuckandDoll Designs.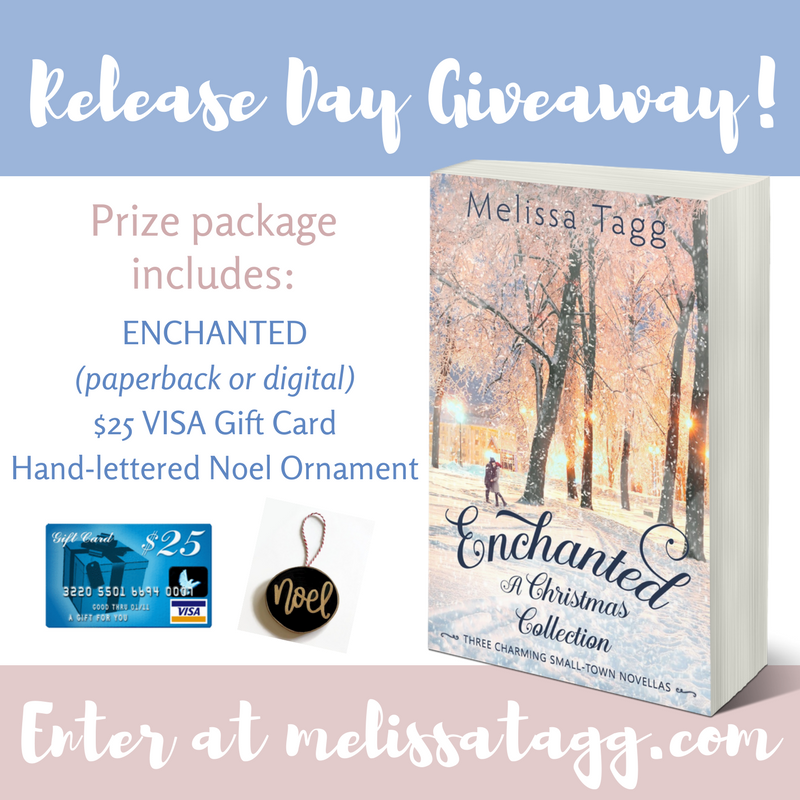 You've got one week to enter…and multiple entry options.
p.s. If you read these new books, would you consider leaving a review on Amazon and Goodreads? I'd be so grateful!