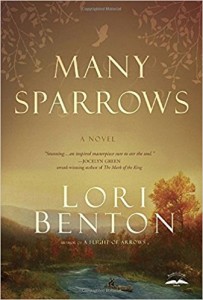 So, there are books I love.
And there are books I loooooooooooove.
Every single book Lori Benton has ever written falls into that latter category for me. She's my very favorite author, and her writing is so gorgeous I really can't even talk about it intelligently. I just turn into a gushy mess when I try.
So needless to say, when an ARC of her latest release, Many Sparrows, landed in my mailbox weeks ago, I dropped everything—including edits on my own book!—to read it. I adored every word, and I loved catching up with a couple characters from one of her former books.
So I'm super excited today to welcome Lori to the blog and to host a giveaway for a copy of Many Sparrows and of a limited-edition photo book with photos taken by Lori herself. (She's a talented photographer in addition to being an author!) Enter the giveaway below the Q&A.
Melissa: One of the bazillion things I loved about Many Sparrows is the reappearance of a couple characters from your second book, The Pursuit of Tamsen Littlejohn. Did you always plan to revisit Cade and Jesse? Or did that element in Many Sparrows surprise you?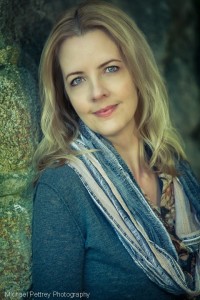 Lori: I wanted to write more about them but I hadn't expected it would be their back story! It was a happy surprise, once I realized the story I wanted to tell about a frontiersman and a woman searching for her lost son would work well set against the historical events of 1774 (the Yellow Creek Massacre and Lord Dunmore's War), which happened to be a time I knew exactly where Cade and Jesse were, what they were doing. It was the part of their back story I'd recounted in The Pursuit of Tamsen Littlejohn.
Even so it took me a while to decide how closely linked my frontiersman, Jeremiah Ring, would be to the characters of Wolf-Alone (Cade) and Wildcat (Jesse), among the Shawnees. Getting to flesh out those bare bones of back story was an enjoyable aspect of writing Many Sparrows.
Melissa: You're a hiker and photographer and I'm constantly in awe of your photos! How does that love of nature play into your stories?
Lori: Thank you for the kind words about my photos. The Pacific Northwest is a paradise! That love of nature goes back longer than my love of writing. As a little girl I didn't want to play Disney princess or Barbie dolls. I wanted to recreate The Jungle Book in my bedroom! When I got a little older, I made my own bow and arrows out of the forsythia bushes that lined our driveway and practiced shooting. Then I moved to Oregon where access to the kind of wilderness I dreamed of as a child is easy. I still go out with a bow for target shooting, though as you mentioned I'm more often shooting with a camera these days.
The stories I began writing as a child had to do with wolves, or some sort of adventures out of doors. So did the books I read. When I turned to writing novels it's no surprise I chose a wild frontier setting.
Melissa: What was the hardest part of writing this book?
Lori: Connecting with my main character, Clare Inglesby. It wasn't until I gave sufficient attention to her nemesis, Rain Crow, and discovered these two women had made idols out of the same little boy, seeking to fill the emptiness each carried in her heart, that I really got deep into Clare's soul and knew what made her tick. Both these women are so fixated on Jacob Inglesby that the need to make him the center of their existence has become a scream that drowns out all other voices, including that of the Lord.
Melissa: Which character in Many Sparrows do you identify with most?
Lori: They are all me, in their way. But I'm going to have to admit that it's Clare. Her struggle to stand still, trust, and allow God time to fix the heart-wrenching problem she is facing is one I find challenging as well. I have failed in it, and I have triumphed in it. I'm also prone, like she and Rain Crow have done in this story, to putting something or someone before the Lord in my heart. Putting the unrealistic expectations of fulfillment upon that person or situation that only the Lord is big enough, deep enough, and complete enough to fill.
Melissa: There's no doubt in mind that readers will walk away from this story hugely emotionally impacted. But for you as the author, how did it impact you?
Lori: Aside from delving deeply into issues that the Lord is still at work on in my own heart… this book was my problem child, when I was so certain it would be easy to write. Well, not easy. No novel comes easily, but having just finished a two-book, multi-generational series with a huge cast of characters spanning twenty years and two major wars… I thought Many Sparrows would be a breeze by comparison. Then, rather like Clare, it fought me the entire way, no doubt in part because I was attempting to write about what the Lord had so recently revealed to me about my own walk with Him! But God met me at every step, as I continually asked Him to do, and I'm still amazed at how this book has come together. It's good to know that whatever emotional impact this story has on readers' hearts it's Him doing His good work in spite of me.
Melissa: What's up next for you writing-wise?
Lori: Tentatively titled The King's Mercy, my next book will take readers back to North Carolina, to a decade in the 1700s earlier than any I've yet written and a setting a little different than anything I've so far published (though still plenty of frontier adventure mixed in). As always when I can manage it, there will be at least one familiar face among this new cast of a characters. And my hero hails from Scotland.
Lori Benton was raised east of the Appalachian Mountains, surrounded by early American history going back three hundred years. Her novels transport readers to the eighteenth century, where she brings to life the Colonial and early Federal periods of American history. When she isn't writing, reading, or researching, Lori enjoys exploring and photographing the Oregon wilderness with her husband. She is the author of Burning Sky, recipient of three Christy Awards, The Pursuit of Tamsen Littlejohn; Christy nominee The Wood's Edge; A Flight of Arrows; and Many Sparrows.
Connect with Lori:  Website  ♦  Facebook  ♦  Instagram  ♦  Twitter
Check out the first two chapters of Many Sparrows here. 
Giveaway Time!
Enter to win a copy of Many Sparrows (ebook or paperback, winner's choice) plus a limited-edition copy of a photo/quote companion book. Just use the form below!

(Giveaway only open in the U.S. Sorry, international friends!)