(In celebration of my birthday and the release of my fourth and final Walker Family book, I'm giving away a $25 VISA gift card plus ALL FOUR Walker novels! Find all the giveaway entry details at the bottom of this post. )
You guys…it's my birthday. And the book birthday for All This Time!! Not gonna lie, I'm more excited about the latter than the former. I feel like I did way more work writing this book than I ever did, like, being born.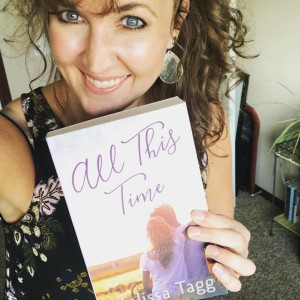 My inclination today is to write a long and rambling blog post about the release of All This Time. Or, no, not so much about the release…but about the writing of this book. Because writing this one…
…it was entirely different.
And entirely the same.
It stretched me like the others. It changed me like the others. And like the others, it beckoned me places I hadn't expected to go.
But it also eluded me in a way I haven't experienced in a long while. Bear—OH MY HEART!!—was like this 3D origami creation and digging into his backstory was like unfolding the paper and then writing his current journey was like trying to re-fold the paper…and I kept failing miserably. (This analogy only works if you're as bad at origami as I am.)
And Raegan Walker…
Raegan wasn't supposed to be like me. I'm Kate Walker, you guys. When I wrote From the Start (Kate's story), I wrote myself onto the page in a way that freaked. me. out. Vulnerability is not my favorite thing. But as I set out to write Raegan's story, I thought, "Oh good. This character is quite a bit different than me. It won't be nearly as scary to write her into existence as it was Kate."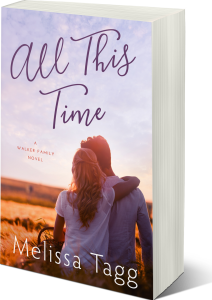 But oh no. Raegan had to face her fears in this book, which eventually led to me facing my own fears—fears I wouldn't have even been able to name prior to writing this story. And, frankly, it became much more personal than I wanted it to be. (No, I don't struggle with the exact same things Raegan does. But the way she hides from the hard emotions, her tendency to go numb—I know a little about that.)
And so, today, I'm tempted to wax eloquent about all of this. To tell you all about my excitement and all about my nerves and all about the hundred and one emotions I felt while writing this book.
But you know what I really want to say? More than anything?
I want to say THANK YOU.
Thank you for reading this Walker Family series. Thank you for letting me put my heart in your hands over and over. Thank you for the reader notes and the reviews and the social media interaction and everything.
Thank you for letting all four Walker siblings—Logan and Kate and Beckett and Raegan—and their dad and their various love interests into your life. Thank you for your repeat visits to Maple Valley. Thank you for letting me gush . . . especially about Logan. LOL!
Thank you for being part of a very personal dream-come-true. I've wanted to write books since I was a little kid. I literally don't remember ever wanting to do anything other than write books. (Except be a rock star. Thankfully, there came a point where I realized my years of piano lessons and fair-to-middling singing voice just weren't going to cut it. I now feed that longing by following my favorite band around the country and it's working out pretty darn good if I do say so myself.)
I'm so thankful for this journey. I say frequently that writing, for me, feels like a lifeline to God. I just told a friend the other day that when my faith feels dim, the one thing that lights it up again is writing. It's how I figure out what I feel and why. It's how I hear God's voice. Some people get that through worship at church or through nature or through daily disciplines. I find those divine whispers when I write.
And I'm just so grateful.
Thank you.

p.s. I've have a lot of people ask me what's next after this series. If all goes as planned, I'll be releasing One Enchanted Noel, the final Enchanted Christmas novella, later this holiday season…and the whole collection should release in paperback. (Finally!) And after that…well, that's something I'm still discovering.

I've got ideas, I've got inklings of potential plans and opportunities…but I want to get through the holiday season before committing. Haha! I can tell you this: You most likely haven't seen the end of Maple Valley. And there are definitely some side characters waiting in the wings for their own books. 😉
Giveaway Time!
In celebration of my birthday and All This Time's birthday, I'm giving away a $25 VISA gift card plus ALL FOUR Walker Family novels. YAY! Already have the books? Well, they just might make a great Christmas present for a reading friend. To enter, just use the form below.